Original artwork by Meredith Cavaness Corning.
A courageous woman is no longer victimized by an abusive partner. Read how she used her harrowing experience to start an online shop and help others in the process.

Clicking away at her office computer, Veronica Cizmar's life in Toronto, Canada, has slowly returned to normal. She has her own business, Some Like it Vintage, an online boutique and consignment shop to keep her busy and fulfilled.

The site features only authentic period items, and 10 percent of the Web site's sales help women subjected to domestic violence--something Veronica knows only too well. Just five years ago, she found herself in a whirlwind romance that would ultimately leave her a victim of abuse.

In the summer of 2002, Veronica met a businessman who said he was visiting the Canadian city for a meeting. Charming, handsome and seemingly well-connected, he claimed ties to many powerful forces in the U.S. Maintaining he was a first cousin of President Bush, Bruce had all the visible merits to confirm his stories: the clothes, the belongings, the persona and, at times, the entourage.

"Bruce said he was, in fact, the head of the Bush family," Veronica says. Ominously, he told her that, "there was no divorce in his family; the only way out was by death-accident, natural cause or otherwise." By October, the two friends began dating and, swept off her feet, Veronica accepted his marriage proposal just two-and-a-half weeks later.
Photo does not depict the real Veronica Cizmar.

Almost immediately the atmosphere changed. Bruce turned aggressive, hostile and intimidating. "He had not touched me in any way yet. It was his attitude and demeanor that were becoming more and more aggressive and threatening; not just to me, but to others-waiters, concierge, strangers, family and friends," she says. Soon, he asserted further connections to the American mafia. Bruce, like many abusers, had cultivated a convincing life story and, like many victims, level-headed Veronica had been given all the evidence she needed to believe him. Despite gut feelings telling her to flee, Veronica soon became a prisoner, forced to stay in the relationship believing Bruce had the power and influence to harm her or her family.

The brutality began no long after Bruce had moved into Veronica's apartment. It was less than a month after their engagement when he came home brandishing a gun, hard proof he had the means to kill her if she ever tried to leave him. Lying on Bruce's orders, she told her family and friends that gambling and addiction problems had forced Bruce to take her on a trip to recover and rehabilitate. He sequestered her from anyone who could help her. The beating was violent and tortuous, as Bruce would systematically wear her down with hits, cuts, burns and sleep deprivation. "He would tie me to a pillar in the room, duct tape me and whip me with leather belts, make me stand at the foot of the bed and not let me sleep," she says. "This would go on for days."

It was that way for the rest of their 18-month-long relationship, with Veronica held captive alone or forced to accompany Bruce to business meetings and errands. "I had to have my cell phone with me at all time," she says. "During the last three months he was mostly out of the house, and I was too terrified to leave. When he did come home he would torture me. My house was bugged, and my internet activities and phones calls were monitored. I was in a complete state of panic."

Emotionally and physically drained, Veronica had neither the strength nor the mental fortitude to leave. It was only by chance that due to allegations by his business partner and one-time foster brother regarding fraud, extortion and threats to his own family that an investigation on those charges led police to Veronica and the subsequent awareness of her abuse. "Police officers showed up with a search warrant," Veronica says. They were on a hunt for papers that proved Bruce had been stealing money from his business, threatening others and lying about his withholdings. "As I read the warrant, everything fell into place," she says. "I was still terrified, but I was convinced to hand over the keys to a closet where all of Bruce's papers were." Veronica had finally been given access to Bruce's true identity. Instead of ties with American business dealings and political families, there was a long record of criminal activity and records indicating that, among other things, he was Canadian, married to another woman and had a second fiancee in another part of town.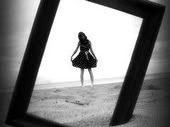 "This was the day I was free from Bruce," she says. "during my seven hour interview that night I spoke for the first time about the torture and violence. That was when the police were able to add 13 more charges to his arrest."

It's been five years since the ordeal began, and Bruce is behind bars serving a 15-year sentence. For Veronica, every day has been a process of growth and healing. In 2004 she started selling vintage goods on eBay with a friend as a hobby. The next year she took the company solo and turned it into Some Like it Vintage. In addition to the funding she helps provide for local shelters, Veronica also works closely in Toronto with Redwood Women's shelter, volunteering her time to help prepare meals and talk with the women there.
Therapy for her anxiety and post traumatic stress, and karate classes to help her deal with aggression, have brought Veronica to a place where all she wants is to focus on her future. She hopes to eventually turn her online shop into a brick-and-mortar one. She wants to share her story through talks at local high schools and in a series of articles she hopes to write.

"My goal is educating women to rely more on themselves, to be more confident," she says. Though she always knew she was intelligent and self-assured, she regrets not heeding her gut. "I fell into what I did partly because of not following my gut feeling...I hope to teach people how to recognize the signs of anybody who might be taking advantage of them. The more I can do the better."
Source
Permission granted by Veronica Cizmar.